Waseda University Library Rare Material Collections
Principes du droit politique (1st ed.)
J. J. Rousseau / Call Number: DB4098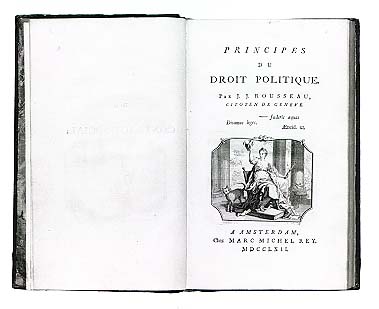 Principes du droit politique
Amsterdam, 1762. (Du contrat social)
Rousseau, Jean Jacques, 1712-1778.

This book begins with the famous passage, "L'homme est ne libre, et partout il est dans les fers." ("Man was born free, and he is everywhere in chains.") In this work, Rousseau treated the

theory of social contract

, then prevalent in Western Europe. He emphasized that the state sovereignity was nothing but the collective will of the people. This thinking was highly democratic and revolutionary, compared with the forerunning ideas.

This work has numerous different editions; reportedly the mere number of those published in France exceeded 80. There are two "first editions" of 1762, in which year appeared a total of 6 different editions. Among them there are two types, having "Du contrat social" and "Principes du droit politique" respectively at the beginning of the title page. And the two groups are also different from each other in illustration of the godess on the title page. Waseda University owns both of them and the page presented here belongs to the latter type. Incidentally, its preceding added title page has the alternative form "Du contrat social".

Having greatly influenced the French Revolution, this work played a large role in Japan as well in enlightenment for liberal thought through its translation into Chinese writing by NAKAE Chomin, the thinker nicknamed as "Eastern Rousseau".