Waseda University Library Rare Material Collections
Description de l'Egypte
Call Number: AK4153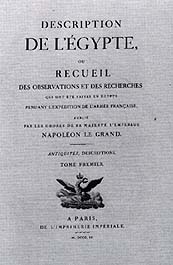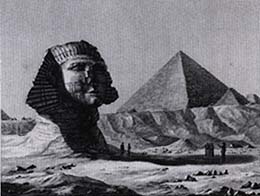 Description de l'Egypte.
23 v. Paris, 1809-22.

This work reports the results of the research carried out in Egypt from 1798 through 1799 by the French expedition directed by Napoleon.

When starting the expedition, Napoleon requested the French Academy (then Institut de France) for cooperation. As a result, a survey group comprising a total of 175 persons (scholars, cartographers, painters etc.) was formed to accompany the expedition, so as to make an exhaustive record on Egyptian history, geopgraphy, natural history and so forth.

The research results, appearing in the publication presented here (texts in 9 vols., plates in 14 vols), were recorded in three parts: antiquities, modern state, and natural history. About 200 artists participating to the production of this work, it included more than 3000 plates in the huge book size. They illustrate such a wide-ranging themes like historical constructions, flora and fauna, landscapes, customs of the inhabitants, industries, commerce, agriculture, and goods for daily use. In particular, antiquities such as

scarabee

and burial accessories are realistically and accurately depicted in copperplates; those are magnificent works made principally by Vivan Denon, who later became the Director-General of Museums. Also included in the plates are copies of the

Rosetta Stone

, the analysis of which greatly contributed to the decipherment of Egyptian

hieroglyphs

.

The impact of this book was enormous; it not only paved the way for naissance of modern Egyptology, but it caused "Egyptian booms", affecting a wide-ranging areas in Europe e.g. the emergence of a new decorative style "a l'egyptienne".
Scarabee

Ancient Egyptian handicraft in the shape of scarab beetle. From the similarity of the words between "Kheperer" (the insect) and "Kheper" (creation or renaissance), it symbolized the creator of the universe. And from its habit of rolling spherical faeces, it was sanctified as the incarnation of the god of the sun. Used as a seal or a talisman.

Hieroglyph

Ancient Egyptian symbolic characters. Also, "sacred carved letters" or "script of the words of god". The translation of the Rosetta Stone inscription by J. F. Champollion (1790-1832) broke ground for advancement of the hieroglyphic research.

Rosetta Stone

Stone monument discovered in Rosetta, at the mouth of the Nile by the French expedition in 1799. Inscriptions are recorded on the black basalt in three kinds of letters: hieroglyphic ("sacred carved script"), demotic ("popular script", also of ancient Egyptian), and Greek. It contains texts of the cult by the priests of Memphis toward the Egyptain king, Ptolemy V (Memphis Decree, BC 196). Now in the posession of the British Museum.