Waseda University Library Rare Material Collections
Zapiski flota
by Golovnin / Call Number: AE3502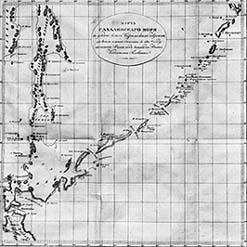 Zapiski flota (Записки Флота)
kapitana Golovnina o prikliucheniiakh ego v plienu u iapontsev v 1811, 1812 i 1813 godakh. By Golovnin, V. M., pub. 1816.
капитана Головнина о при-ключениях его в плену у японцев в 1811, 1812 и 1813, годах, Головнин, B.M. 1816.

"Zapiski flota" ("Memoirs of a captivity in Japan") was written by the Russian naval officer

Golovnin

.

The incident happened when Golovnin, then captain of the frigate Diana, was travelling in the southern Kurils to make a survey of the region, as commanded by the Russian government. He was captured by samurais of the Matsumae (in sotuhern Hokkaido) clan. He then experienced the captivity lasting for 2 years and 3 months, until finally released in exchange for TAKATAYA Kahei, who was seized by the Russians in retaliation for the detention of Golovnin. This book was written on the basis of the captivity he passed through in Japan.

Published in 1816, his memoirs got immediately translated into other European languages, and became a bestseller. Also in Japan, its first translation appeared in 1825, with the title of "Soyaku nihon kiji", based on the Dutch edition.

James Murdoch (1856-1921), the renowned British orientalist, commented on this book, "Golownin's Narrative and

Rikord

's Account are interesting documents well worth a careful perusal." (in footnote, Murdoch, "A history of Japan", vol.3, p.522, 1926).

This evaluation comes from the fact that the author not only relates his living in detention, but further describes the inhabitants in the southern Kurils and Ezo (old name of Hokkaido) as well as the social, economic and political conditions of Japan. The book thereby provided matchless information at the time about the country under its seclusion ("Sakoku") policy. Although captivated by the Japanese, Golovnin gave positive accounts about the people, predicting their great progress for the future.
V. M. Golovnin (Головнин, B.M.)

1776-1831. Russian naval officer. After completion of training at the British navy, he became the captain of the frigate Diana and went on an around-the-world expedition. Back to his homeland, he rose successively in rank, and contributed at the core of the Russian navy to its modernization.

Rikord, P. I. (Рикорд, П.И.)

1776-1855. Vice-captain of the Diana at the time. He also made efforts in rescuing Golovnin. For that purpose he captured Takataya Kahei. His memoirs ("Account of voyages to the coasts of Japan; and of the negotiations with the Japanese") was likewise highly estimated in Europe.