Waseda University Library Rare Material Collections
JUNISHI KUAWASE
NONOGUCHI Ryuho / Call Number: [he]5-6098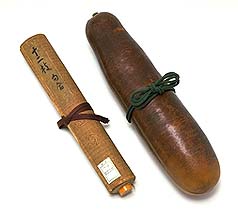 JUNISHI KUAWASE
by NONOGUCHI Ryuho as author and illustrator. 1666. Manuscript. 1 scroll (25.2cm X 342.5 cm.)

NONOGUCHI Ryuho

(1595-1669), the creator of this work, was purportedly the trailblazer for subsequent flourish of an artistic style called "haiga" (paintings with haiku verses).

This scroll contains haiku works associated with paintings, both in NONOGUCHI's own handwriting. Each of the haiku mentions a different animal of the twelve Chinese zodiac (junishi), whose corresponding picture is also presented. Two animals are combined to constitute one unit, thus each comprising two haiku and two paintings ("kuawase" originally signifies juxtaposition of pairs of haiku for competetion). The way of combination is called "nanatsume" ("the seventh"), whereby, among the twelve animals, the first and the seventh, the second and the eighth and so forth (e.g. the dragon and the dog) are put together. This kind of combination was considered to bring lots of luck.

In the paintings, the animals are dressed in kimono like humans, such as the snake dressed up in "juni-hitoe" (ceremonial robe of a Japanese court lady), giving lovely and funny impressions. Representing the state of the maturity NONOGUCHI attained in his later years, this fine piece can be evaluated as an excellent work among his numerous manuscripts. This masterpiece fully demonstrates the creator's great talent, which later brought such an eminent person as

WATANABE Kazan

(1793-1841) to highly admire, "Ryuho, the splendid" (in Watanabe's writing, "Haigafu").

Incidentally, the axis of this scroll is elaborately inscribed with the 12 zodiacal signs occupying their designated directions in a circle. Together with the case made of gourd, the makeup appears very tasteful.

This material came from the library of YOKOYAMA Shigeru ("Akagi bunko").
NONOGUCHI Ryuho

1595-1669. Haiku poet and painter in the early Edo period. Born in Kyoto. His real name is NONOGUCHI Chikashige. He called himself also "Hinaya", the name originating from his family business of doll shop (hina means dolls displayed at the Girl's Festival). He studied renga under INAWASHIRO Ken'yo and haikai under MATSUNAGA Teitoku. As member of the school of the latter, NONOGUCHI was engaged in editing "Enoko-shu" (haikai anthology), then parted company with the master and founded his own school. He published many works, "Haikai Hokkucho" and "Hanahigusa" among others.

WATANABE Kazan

1793-1941. Official of the Tawara clan (now part of Aichi prefecture) in the late Edo period, painter and scholar of Dutch studies. Born in Edo (now Tokyo). He was involved in "Bansha no goku" (imprisonment of scholars of Western studies by the Tokugawa shogunate), and commited suicide after being released to stay in his home domain. Besides the paintings such as "Portrait of Takami Senseki" and "Shishu Shinkei", he also authored writings as "Shinkiron".