Waseda University Library Rare Material Collections
HEIBON
manuscript by FUTABATEI Shimei / Call Number: [he]14-4401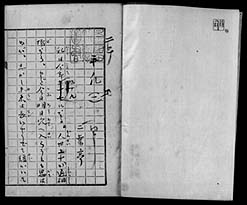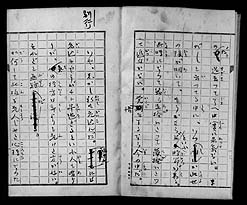 HEIBON
Holographs by FUTABATEI Shimei. 1907. Manuscript. 24.7 X 16.7 cm.

Following "Ukigumo" and "Sono omokage", as the third novel of the author FUTABATEI Shimei(1864-1909), "Heibon" (tr. "Mediocrity") was published serially from October to December 1907 in the newspaper "Tokyo asahi shinbun".

This work takes the form of memoirs of a petty official FURUYA Sekko, who failed in becoming a man of letters; the narrative world reflected the feelings and ideas of the author, thus containing his autobiographical implications. In particular, with sarcastic mentions on the

naturalistic

novels, his scepticism toward the literature is expressed in this novel, abounding in nihilistic traits.

The author noted in this connection, "I cannot possibly be enthusiastic about writing even when I take up my pen. I only feel how absurd it is. In Heibon I did a test. But insufficient in taking the theme, I just ended up failing the test. (...) Although I had no intention, the work ended in nothing but a satire." ("I am a sceptic" in the magazine "Bunsho sekai", Feb. 1908).

Waseda University posesses the manusucript of the author, written on 384 sheets of writing paper (of 380 - 400 characters), including those provided by the newspaper. It contains the whole range of the work, beginning from the chapter 1 to 61 (written mistakenly as "62" in the manuscript), despite some lacks (some parts of them belong to the Library's collection "Honma Hisao bunko"). One can trace how the author repeatedly polished the text, making this manuscript an invaluable source for research.

Waseda University Library owns, furthermore, valuable materials related to Futabatei. Among those are another manuscript of "Heibon" (revised for completion) or his pocket notebook, in which, suffering from tuberculosis, the novelist struggled to take notes of his temperature etc., on the return trip from Russia, until his death.
Naturalism

Literary thought originating in the late 19th century France, which extended to Japan in the late Meiji period. With the positivism based on scientific spirits at the core of writing, the naturalism aimed at depicting the reality just as it appeared. Representative works include "Futon" by TAYAMA Katai(1871-1930) and "Hakai" (tr. "The broken commandment") by SHMAZAKI Toson(1871-1943) etc.