Waseda University Library Rare Material Collections
KOSHOKU ICHIDAI OTOKO (1st ed.)
IHARA Saikaku / Call Number: [he]13-1607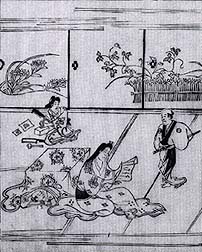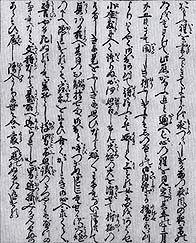 KOSHOKU ICHIDAI OTOKO
IHARA Saikaku; afterword by Rakugetsuan Saigin. Osaka: Aratoya Magobei Kashin ed. Oct. 1682. 8 vols. ; 27.3 X 19.3 cm.

"Koshoku ichidai otoko" (tr. "The life of an amorous man") is a novel written by

IHARA Saikaku

.

The hero named Yonosuke ("Man of the World") was born as a child between Yumesuke ("Man of the Dreams"), who lived in insatiable pursuit of love affairs with women and men as well, and a celebrated courtesan; the son first made love to a woman at the age of seven. Thereafter, always devoting himself to the affairs, Yonosuke ended up, at 60, sailing to Nyogogashima ("Isle of Women"). This work narrates 54 years of his adventures in the form of a novel.

Yonouske, the figure created by Saikaku, is an unusual man, defying the common senses or morals of the society. This novel fascinated the readers by its interesting description of human feelings and manners of the days, through the life history of Yonosuke, who was born and living in ukiyo (floating world). It paved the way for the popularity of the

"ukiyo-zoshi"

genre of novels.

This work is said to have followed the frames of "Ise monogatari" and "Genji monogatari", also with its composition of 54 chapters in 8 volumes, the number of chapters matching that of "Genji".

Waseda University owns its first edition, published when the author was 41. It bears three ownership stamps of lending libraries of the period, leading us to conjecture it was circulated for loan and read by many people. This material is extremely valuable, with its illustrations purportedly pictured by the author himself.
IHARA Saikaku

1642-1693. Haiku poet and author of ukiyo-zoshi novels in the early Edo period. His real name is said to have been HIRAYAMA Togo, the name Ihara being attributed to his mother's family. At 15 he began writing haikai verses, and his poetic style was shifted from Teimon to Danrin styles (both names representing the then prevalent schools of haikai). After the publication of "Koshoku ichidai otoko", he successively produced works, making him the first-ranking author of ukiyo-zoshi. His masterpieces include "Koshoku gonin onna" (1686, tr. "Five women who loved love."), "Budo denraiki" (1687, "Traditions of samurai honor") and "Nihon eitai gura" (1688, tr. "The Japanese family storehouse").

UKIYO ZOSHI

A generic term for the townspeople literature, prevailing mainly in the Osaka and Kyoto areas for about 80 years since the apparition of "Koshoku ichidai otoko", and more specifially, the novels of those days. While its predecessor "kana zoshi" (popular fictions), prevalent especially in Kyoto, had been of enlightening and didactic nature, ukiyo zoshi told realistic and entertaining stories. It was ramified into several genres, such as "koshoku-mono" (amorous genre), "buke-mono" (samurai genre), and "chonin-mono" (townpeople or merchant genre).