Waseda University Library Rare Material Collections
The Japanese exploration of the Antarctic
a documentary film of the Antarctic expedition of SHIRASE
Call Number: AV8T-83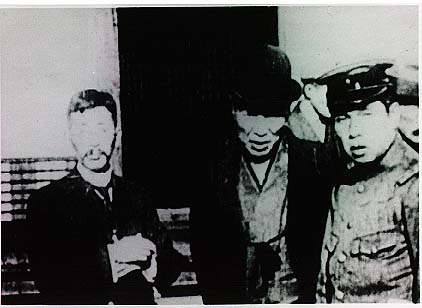 Antarctic expedition of SHIRASE
Documentary film (15 min.), b&w ; 16 mm.

On November 29, 1910, a ship named "Kainanmaru" departed the Tokyo Shibaura pier, marking the outset of the first Japanese expedition to the Antarctic, captained by SHIRASE Nobu (1861-1946).

During the long trip on board, the party met with several occurrences: tuna fishing on the ocean, consecutively happening death of the accompanying Saghalien dogs, and catching penguins (a rare species for the Japanese then) etc. On the other hand, the crewmembers were not exempt from problems in human relations, caused naturally by the situation where many people had to live closely all the time in a tiny place on the ship. Despite such difficulties, they endeavored to challenge.

In March, 1911 the crew managed to reach the Antarctic Ocean. However, having entered the freezing season, the sea was covered with thick ice and kept them from advancing. Obliged to turn over, they waited for spring in Sydney, Australia. But even during that period, they found themselves in a sea of troubles, ranging from internal conflicts of the supporters' association in Japan or an attempted poisoning of the captain Shirase.

The navigation was resumed on November 19 of that year, with 27 crewmembers including the captain, 30 dogs, and a provision of food for 2 years. On January 16, 1912, the expedition finally succeeded in landing the Antarctic for the first time as Japanese, an achievement thus recorded in history.

After the landing, the crew was divided into two groups (one for exploration, and the other for advancing), and aimed at attaining the South Pole. However, the harshness of the untrodden land and the weather surpassed all their expectations. They ended up reaching the point of 80.05 degrees south latitude and longitude 156.37 west. The shortage of food prevented them from further progressing toward the Pole, which was 9.55 degrees or 1,101 km. away in a straight line from their final point.

The 16 mm. film Waseda University owns is the record of the Shirase expedition's activity. It was made by TAIZUMI Yasunao, an engineer of the Japanese M. Pathe Film Company, who joined the second crew (since the stay in Sydney) at the request of OKUMA Shigenobu; the founder of Waseda University occupied the position of president of the supporters' association of the expedition. This film is an invaluable document of the Meiji period.

Chronicles of this Antarctic expedition are to be found in the following publications;

Shirase, Nobu: "Nankyoku tanken".

Tada, Keiichi: "Nankyoku tanken shiroku" and "Nankyoku tanken nikki".

Nankyoku Tanken Koenkai: "Nankyokuki".

The 16 mm. film has been transformed into a video to be viewed in the Audio-visual room of the Central Library.