Waseda University Library Rare Material Collections
Microscope (in use by Udagawa Yoan?)
Call Number: Bunko8-C1425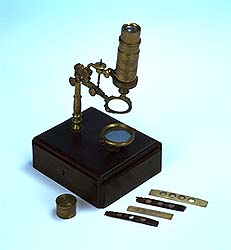 Microscope
(in use by Udagawa Yoan?). In brass. Height: 22 cm. ; body tube: 13 cm. With rosewood stand + 4 microscope slides.

This is the microscope which presumably

P. F. von Siebold

gifted to

UDAGAWA Yoan

, the scholar of Western studies.

Siebold arrived in Japan as medical officer for the Dutch settlement on Dejima, Nagasaki in 1823, and went to Edo (now Tokyo) in 1826, accompanying J.W.de Sturler, the chief merchant of the settlement. It was during his stay at Edo that he met Udagawa Yoan.

Udagawa, specializing in Dutch studies, is often referred to as the originator of modern Japanese chemistry and botany. His ability in foreign languages and his vast scientific knowledge surprised even Siebold. When parting, Udagawa gifted Siebold with a large number of Japanese plants, while Siebold purportedly gave Udagawa Western publications on botany and also a microscope. It is presumed that the microscope of Waseda University, presented here, was the very gift at that time.

This microscope can be dismantled, with its composition almost the same as ones produced today. The accompanying slides, composed of transparent mica (centers) and tortoiseshells and horns (frames), confine plant specimens such as Rhus succedanea and Aphananthe aspera.
P. F. von Siebold

Siebold, Philipp Franz von (1796-1866). German physician. Arrived in Japan in 1823, he taught Western medicine and general science at Narutaki, in Nagasaki, and at the same time engaged himself in Japanese studies, for which he got support from his pupils. In 1828, when he was leaving Japan, it came to attention of Japanese authorities that his belongings included some items under an embargo such as maps of Japan, and after sustaining investigations he was expelled from the country at the end of the following year. Many Japanese scholars of Western studies in contact with him met with severe oppressions of the Tokugawa shogunate (the so-called "Siebold incident"). Back in Europe, he concentrated on working with the materials collected in Japan and writing his research results. His works include: "Nippon", "Flora japonica" and "Fauna japonica" etc.

UDAGAWA Yoan

1798-1846. Scholar of Western studies in the late Edo period. Born in Ogaki (now Gifu Prefecture) as a child of the official physician of the feudal domain, he was adopted by Udagawa Genshin (1768-1834). After studying Chinese medicine and pharmacy, he started to learn Dutch language, then focusing on Western studies. Specialized in a wide subject areas of Western sciences, ranging from pharmacy to botany or chemistry, he showed distinguished talents in translation and writing. Udagawa produced a vast amount of contributions such as "Seimi Kaiso" (translation of William Henry's "Elements of experimental chemistry") and "Shokugaku keigen" (treatise on Western botanical science).