Waseda University Library Rare Material Collections
Sketch designated for illustration of
TOSEI SHOSEI KATAGI
by TSUBOUCHI Shoyo / Call Number: Bunko14-B67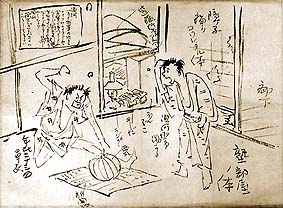 TOSEI SHOSEI KATAGI
sketched by TSUBOUCHI Shoyo, 1 roll (24 X 33 cm.)

This rare piece is

TSUBOUCHI Shoyo'

s own sketch designated for illustration of his novel "TOSEI SHOSEI KATAGI" (17 vols., 1885-1886). TSUBOUCHI sent such drafts to

NAGAHARA Shisui

, who was in charge of illustrations of the book. The Library owns, as part of its special collection "HONMA Hisao Bunko", three sketches of the author, entitled "Watermelon bust at school" (featured here), "Encounter at Ikenohata" and "Dream of the future".

In the style of sumie (monochromatic ink painting) with a witty touch, the sketches include detailed indications about properties and scenery ("Dream of the future" in vermillion, the others in black).

In the actual publication, "Encounter at Ikenohata" appeared in the chapter 6, and "Watermelon bust" in the chapter 9. With all minor changes such as in layout, it is observed that the illustrations were made almost exactly as TSUBOUCHI indicated in his sketches.

"TOSEI SHOSEI KATAGI" tells primarily a love story of KOMACHIDA Sanji and a geisha girl Tanoji, associated also with a romance of KOMACHIDA's close friend MORIYAMA with Kaodori, courtesan of Yoshiwara (prostitution quarter in Tokyo). Realistically depicting the student life of the time, the work pioneered the transition of a literary genre from gesaku (popular fiction in the Edo period) to shosetsu (modern novel). It can be said that this work was an embodiment of the theory developed by TSUBOUCHI in his "Shosetsu shinzui" ("The essence of the novel"). Besides, student conversations are mingled with a number of English words, interestingly reflecting the Westernization era of Japan.
TSUBOUCHI Shoyo

1859-1935. Novelist, critic, dramatist, translator and educator. Professor of Waseda University. Since the publication of "Shosetsu shinzui" (1885-1886), he became a leader of modern Japanese literature. After FUTABATEI Shimei debuted, he gave up writing novels and devoted himself to theatrical reforms. In 1891 he inaugurated the magazine "Waseda bungaku". The University's TSUBOUCHI Memorial Theatre Museum (http://www.waseda.ac.jp/enpaku/index-e.html) was established in 1928, in order to commemorate his accomplishments.

NAGAHARA Shisui

1864-1930. Painter and professor of Tokyo Bijutsu Gakko (now Tokyo University of Fine Arts and Music). He studied the Western-style painting under KOYAMA Shotaro and HARADA Naojiro, then joined Hakubakai (White Horse Society). Originally he showed peculiar talents for caricatures, cartoons and decorative paintings, as indicated by his publishing of the caricature magazine "Tobae". He then attained a moderate style with Oriental smacks. Besides the illustrations for TSUBOUCHI, his deep involvement in the literature is shown e.g. by his bookbinding for poetic works of SHIMAZAKI Toson.