Waseda University Library Rare Material Collections
NISHIGAKI bunko
collected by NISHIGAKI Buichi / Call Number: Bunko10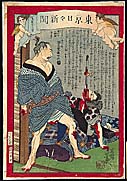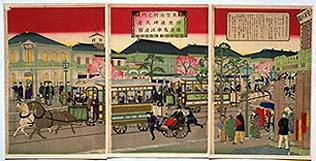 NISHIGAKI Bunko
Collected by Nishigaki Buichi. 6712 books, 706 titles (magazines, newspapers), 4951 items (posters etc.).
A railway coach connecting Shinbashi and Nihonbashi in the urban Tokyo area (nishikie triptych, 1882)

Nishigaki bunko (collection) contains materials accumulated by NISHIGAKI Buichi (1901-1967), alumnus of Waseda University (School of Political Science and Economics) and owner of an advertising agency, who also led Nihon Shinbun Shiryo Kyokai ("Association for the Newspaper Resources"). Nishigaki, active at the forefront of the advertising business before and after the Second World War, founded the above-mentioned association in 1958, as an initiative for preservation of newspaper materials in Japan. After his decease Waseda received the donation of his treasured collection by Mrs. Nishigaki.

The collection encompasses a wide range of materials (ca. 12000 items) related to the journalism and media in general, such as newspapers, advertising, publishing and so forth. Included are manifold materials, e.g. posters,

hikifuda

and

nishikie

sign boards in the Edo period, also newspapers from the late Edo through early Meiji periods, accompanied further by such items as matchbox labels or wrapping papers of medicine. The "retro" designs look rather fresh to us today and can be appreciated as works of art.

The contents of the items are also rich in variety. Some reflect wonders of the Japanese towards the Western civilization, while others are exactly what would be presented in today's sensation-seeking TV shows. The collection very interestingly and valuably serves as sources for the history of the custom and of the journalism, vividly representing the people's life in those days.

Some of the materials of this collection are presented in the exhibition catalog "Bakumatsu Meiji no media ten: shinbun nishikie hikifuda" ("The media of the late Edo and Meiji periods: newspapers, color prints and handbills"). This catalog is available for purchase at the information counter of the Central Library.
Hikifuda

Handbill for attracting customers. It came to usage in the Edo period. Some say that the hikifuda originated from MITSUI Takatoshi (1622-1694), the founder of the financial and industrial conglomerate known by his name.

Nishikie

General name for gorgeous ukiyoe printings with multiple colors, initiated by SUZUKI Harunobu (1725?-1770). Nishikie flourished in the late Edo period. Produced not necessarily for the aesthetic cause, works of nishikie also shared the function of media.
* Further information in Japanese:
article on the Nishigaki bunko (from the Library's publication "Fumikura")