Waseda University Library Rare Material Collections
Tokyo NICHI-NICHI SHIMBUN
Call Number: Bunko10-7017; 7125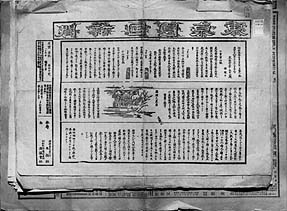 Tokyo NICHI-NICHI SHIMBUN
Tokyo: Nipposha, Feb. 1872 - Dec. 1942.

This is the first daily newspaper published in Tokyo.

It was launched on Mar. 29, 1872 (Feb. 21, old calendar). The year was marked by the great development of communications in Japan: opening of railways, inauguration of telegraphic service between Tokyo and Osaka, enforcement of nationwide postal service, and a large number of newspapers founded across the country.

The founders of "Tokyo nichinichi shinbun" are: JOHNO Denpei (1832-1902, pseud. "Sansantei Arindo" as gesakusha: popular fiction writer), NISHIDA Densuke (1838-1910, former clerk of TSUJI Den'emon's kashihon'ya: lending library), and OCHIAI Ikujiro (1833-1904, pseud. "Utagawa Yoshiiku" as ukiyoe print artist). Soon after the founding joined HIROOKA Kosuke (1829-1918), who, like Nishida, had served the Tsuji family.

With the intention of being a "general" newspaper from the very beginning, "Tokyo nichinichi" applied for permission of publication to the Ministry of Finance by notifying that it would report: "governmental announcements first of all, and further, personnel changes in the Ministries, public office relocations, current prices of rice and other goods, opening of pharmacies etc, news about the commerce, comments on the agriculture, synoptic translations of foreign newspapers, new technical inventions, sudden mishaps, miscellaneous strange stories, and as far as information about current popular songs."

The first issue, in mino paper ("minogami") and printed with two colors on one side only, was composed of "Kansho koho" (governmental announcements and documents) and "Koko sodan" (general news).

Afterwards, joined by KISHIDA Ginko, FUKUCHI Ochi and TOKUTOMI Soho as editorial members, "Tokyo nichinichi" developed to become, together with "Tokyo asahi shinbun", one of the two leading newspapaers in Japan in the Taisho and early Showa periods. Particularly in the Taisho period (1912-1926), its literary section flourished, receiving renowned persons as authors of serial works, such as MORI Ogai, AKUTAGAWA Ryunosuke, KIKUCHI Kan, and YOKOMITSU Riichi.

In 1911, the management of the newspaper got affiliated to "Osaka mainichi shinbun" on the condition that its name "Tokyo mainichi shinbun" would be retained. The two newspapers merged into "Mainichi shinbun", which has been continuing up to the present since the issue of Jan. 1, 1943.